Looking for the best white water rafting Idaho trips to go on in 2023 or 2024? Look no further than Idaho River Adventures! Our multi-day Salmon River rafting trips provide families and friend groups a bucket experience. Let us handle the details while you stay and play in Idaho's beautiful wilderness.
Without further delay, here are the 3 best Idaho river rafting trips to go on in 2023 & 2024!
---
The Main Salmon River is one of the classic Idaho river rafting trips and one of the best-kept secrets of the Frank Church-River of No Return Wilderness. The Main Salmon is nearly an 80-mile long stretch that is floated in six days. It is known for its beauty, beaches, pictographs, and whitewater that is fun for all ages and abilities. 
The Middle Fork of the Salmon lies in the heart of the Frank Church-River of No Return Wilderness. It's a wildly beautiful journey down one of North America's most remote river canyons. Beginning from the Sawtooth Mountains, the Middle Fork drops 3,000 feet over 100 miles and features dozens of class 3 rapids. Big Horn Sheep, Bald Eagles, Osprey, and Marmots are commonly seen while floating downriver. Idaho River Adventures is your premier outfitter for Middle Fork Salmon River rafting. We will always proudly call it home.
The Lower Salmon River is home to one of the best river trips in North America. If you want beautiful beaches and big waves in a western river canyon, this is the trip for you. It's the essence of river rafting Idaho. The Salmon River Canyons are a different kind of Idaho river rafting experience than the Middle Fork of the Salmon. It's lower in elevation, which means the water is warmer. The weather is usually warmer as well. Swimming and napping on the beach are encouraged. Lower Salmon River rafting trips are usually shorter and cost less than other Salmon River trips, which means they are great for families or anyone who wants a relaxing introduction to raft trips.
---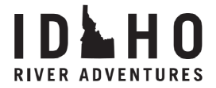 When you're ready to book your bucket list Idaho river rafting trip, we hope you'll consider joining Idaho River Adventures.  Our attention to detail along with a strong emphasis on safety, experience, and customer service make us the perfect match for your family or group vacation. Our diverse Middle Fork Salmon River, Main Salmon River, and Lower Salmon River rafting trips are tailored to you in order to provide the most premium experience. Reach out today to inquire about the adventure of a lifetime on Idaho's most prestigious rivers.